Your RV is a house on wheels and like any house you should have a basic toolbox inside.  Your RV toolbox does not need to be complicated, but it should have some items to help you fix those pesky little problems when they arise. Aside from the usual multi-bit screwdriver, wrenches, hammer, pliers, nuts, bolts and nails your toolbox should include a few items that are specific to the unique needs of an RVer.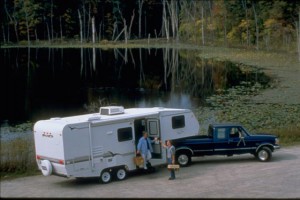 Just in Case Items:
A pair of work gloves
A multimeter – This device will help you measure electrical current in an electrical circuit or between two points.
Tire pressure gague
Bungee cords of various lengths
Rope
Duct tape – A must for emergency sidewall patches, some awning repairs and other make do repairs that might arise on the open road.
Electrical tape and plumbers Teflon tape
Flashlight
12V light bulbs – When choosing a selection of light bulbs do not forget to check the bulbs used in your refrigerator, tail and clearance lights and interior lights.
Assortment of 12V Connectors – You should include mar connectors and some blue butt connectors.
Small first aid kit – this should include Band-Aids, alcohol wipes, antibiotic ointment, gauze, first aid tape, cotton swabs, sun screen, after burn cream, and after bite ointment, scissors, tensor bandages, Tylenol, safety pins etc.
Batteries – Check your smoke and LP detector, air conditioner remote and other battery operated items and include a selection of batteries to suit your needs.
Fuses – Don't forget to check what fuses are used in your RV and include an assortment of these in your toolbox.  Importantly, don't forget to check your slide-out – there is nothing worse than a slide-out stuck in the out position because of a simple blown fuse.
Roadside safety kit – Importantly this kit should include collapsible pylons and flares to protect you and your rig in case of an emergency roadside side stop.
Nylon ties or zip ties – Strong and versatile, these simple items can perform some pretty important tasks.  From securing your awning arms while traveling, to tying up a broken scissor jack or fastening a wayward wire these should certainly be a part of every RVers toolbox.
Products for all RVers:
Garden hose washers
Barbeque lighter and butane
Bubble fridge level
3/8" flare plug – This will give you the ability to disconnect a malfunctioning or leaking propane appliance safely while still having the use of your other propane appliances.  Please remember that in Ontario any work that disrupts the integrity of your LP gas system must be inspected and tagged by a licensed LP gas professional before the gas system is put into operation.
Some RV adaptor plugs – Depending on your own electrical service and where you are going to be camping it is wise to have the necessary electrical adaptors.  These might include some of the following – a 15A-30A adaptor, 30A-15A adaptor, 30A-50A adaptor, 50A-30A adaptor.
Waterheater drain plug – The loss of hot water for a weekend because of a simple broken drain plug can easily be avoided with a spare plug in your toolbox.
Disposable latex gloves – A must have for those dirty plumbing jobs.
Top Tape awning repair tape – It is a clear tape that allows you to repairs tears and holes in your awning fabric.
Eternabond leak repair tape  – This product is absolutely incredible.  It is sold by the foot and a small amount will work to patch black and grey water tanks, metal and rubber roofs and most likely anything else you can think of.  This product is actually just a thin layer of butyl tape backed on a thin piece of aluminum, fabric mesh or white UV stabilized backing.   Peal off the protective backing and permanently fix all kinds of leaks.
Non-dirt attracting spray lubricant – We like Protectall's Slide-Out Dry Lube.  This product will help you to avoid the temptation to use a dirt attracting lubricant on your jacks, slide-out, electric step and other items that might give you some trouble when out on the open road.
Dicor Lap Sealant – For all you with a rubber roof this is the only product you can use to patch tears and seal seams.  Carrying this with you at all times will help you avoid the temptation to patch your rubber roof with products that are incompatible with your rubber roof (i.e., many other caulkings and sealants on the market).  Please note these incompatible products do include duct tape!
ProFlexRv– This polybutene based sealant in a tube is wonderful for any emergency caulking job (except on a rubber roof).  It fits easily into your toolbox and works very well on both fiberglass and aluminum.
Special RV screwdriver – If you've ever tried to take down your cupboards in your RV, you may have notice that many RV manufactures use a strange screw that looks like a number 8 turned on its side.  You can purchase at your local RV shop a multi-bit screwdriver that has this bit or you can purchase the bit on its own.
Putty tape – This product is used to create a protective weatherproof gasket on almost everything installed on the sidewall of your RV.  It should be used behind all metal moldings, windows, lights, doorstops, cable hatches etc.  Do not use putty tape on your rubber roof!
Products For Towables:
Wheel bearing kit – There is only one thing worse than blowing a bearing on your travels – that is waiting days while the RV shop or automotive repair facility orders in your bearings.  Carrying a spare inner and outer bearing, axle seal and a small tube of grease will make sure you lose no time when hit with the unexpected.
LP bottle wrench – Only those with the old style propane tanks will require this wrench  (i.e, these tanks do not have the newer style plastic nut that allows you to connect and disconnect by hand) This wrench will allow you to easily disconnect your propane tanks and get them filled.
Extra hitch pins and clips
Products For Motorhomes:
LP Valve Seal – This seal costs no more than 2 dollars and if it is leaking or missing your propane filler cannot fill your tank.  You only have to encounter this once to learn your lesson (spoken from experience).