Most RV's now come equipped with roll-up awnings. These awnings are a wonderful addition to any RV as they provide campers with a spot out of the sun and drizzle to enjoy the fresh air. However, many campers misinterpret how to operate these accessories properly. Roll-up awnings are built to be quick, convenient and easy to operate and therefore are intended to be ROLLED UP!! In fact, most roll-up awnings can be rolled up in a matter of seconds (with a little bit of practice). However, it is too often the case that awnings are damaged or destroyed by wind and rain when campers are away from their RV's or asleep at night. Although there are many products on the market to help protect awnings from wind damage, the best protection is to keep the awning rolled up if the weather report calls for high winds or storms or if you expect to be away from your RV of any extended length of time. This practice can save you hundreds of dollars in repair costs or insurance deductibles and the inconvenience of being without your awning or even your RV while it is being repaired.
Here's a list of Products that are designed to protect your awning:
Center Rafters, Bar-to-Ground Supports and Cradles:
These three products are designed by most awning manufactures to help support awnings that are larger than 16′ and are normally awning specific.
The Cradle:

The Cradle acts as a support for the awning while it is rolled up. Awnings over 16′ tend to become bowed in the center as a result of the weight of the roller assembly and the downward pull of gravity. The cradle will gently hold the awning in the center and help keep it straight over time. They are also very important for campers who take their RV on the road. Roads conditions tend to take their toll on awnings, causing them to bounce and develop a bow in the middle.
Center Rafters and Bar-To-Ground Supports:
The center rafter is a type of pole that extends from the awning rail out to the roller assembly when the awning is rolled out. While the Bar-to-Ground Support goes from the roller assembly back in to the RV or down to the ground depending on your personal preference and camping conditions. These supports help strengthen the awning hardware and help to prevent bowing of the roller tube and fabric sagging. In fact, if your awning is larger that 19′ it is recommended that you install 2 center rafters with Bar-to-Ground Supports.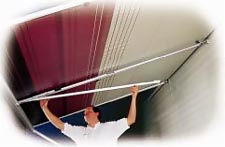 Please  Note: Although many RVs come from the manufacturers with awnings larger than 16′ already installed, rarely do they come with a Center Rafter/Bar-to-Ground combination. This does not mean your awning would not benefit from this system and we recommend installing the A&E Optima system. This system contains a Cradle, Center Rafter and Bar-to-Ground Support that is nice to look at and easy to operate.
Awning Straps (often called Hurricane Straps):
These products consist of a long nylon cord, two tent pegs and a spring. The nylon cord stretches over the awning just above the roller tube and then is anchored into the ground by the tent pegs, and the spring does offer a little bit of give when the winds pick up. This product does offer additional anchorage and support for you awning hardware. However, it should not encourage campers to keep their awnings rolled out in inclement weather.
Awning De-Flappers:

These are a relatively new product and are designed to help cut down on awning noise caused by fabric vibrations. They attach to the inner arm of your awning and then to the fabric. They help to hold the fabric in place in windy weather, and may ward off fabric tearing. These products have become so popular that awning manufactures like Carefree of Colorado are including them on some of their new roll-up awnings (The Carefree Fiesta and Spirit).
Please Note: Although the above products may help to protect your awning in the wind, they should not be used as a substitute to rolling your awning up. We can't stress this point enough … If the weather is bad, or you are not going to be at your RV for an extended length of time, please put your awning in (even if you have an awning strap).
Awning Cleaners:
Keeping your awning clean may seem like a purely cosmetic activity. Although having a clean awning does make your RV look nice, it can also serve to extend the life of your awning fabric. Most awnings are now manufactured with a protective UV layer, which helps extend the life of your awning fabric by repelling the UV rays that dry out the vinyl fabric. Awning fabrics that becomes dry and brittle are more likely to tear. You can help extend the life of your awning fabric by keeping your awning clean and using a product specially designed for vinyl fabrics. These cleaners and protectors help keep vinyl fabric soft and pliable.